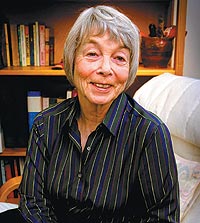 As the first female mayor of the City of London, Ontario, Jane Bigelow's is a story that can serve as an inspirational lesson to young women everywhere.
Jane Elizabeth Dillon was born in 1928 and grew up in Toronto with her parents, Edward and Margaret, and a younger brother, David. Her family was able to remain largely unaffected by the effects of the Great Depression, and Jane attended the St. Clement's School. That competitive environment encouraged Jane to pursue a university education at a time when women seldom followed that path.
Having completed a degree in Physical Education at the University of Toronto, Jane Dillon married Charlie Bigelow in 1954. His career in Chemistry meant the family- now with new additions Ann and David- had to move constantly.
It was during this period, with time spend in Hamilton, Edmonton, Ottawa, New York and Copenhagen, when Jane developed an acute sense of the importance of local government and the responsibility it has to its citizens.
When the Bigelow family settled in London, Jane finally had the stability and time to put her beliefs into practice. Shortly after the family's 1965 move, Jane won a seat on the Board of Control for the City of London. After years as a civil servant spent working to improve social programs throughout the city, Jane ran successfully to become the Mayor of London in 1972.
While Jane Bigelow's story of determination and self-confidence is inspiring to any observer, it becomes even more impressive when considering the groundbreaking achievements she has made, and should be known by young women everywhere.