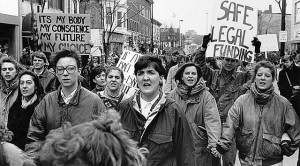 Book launch gives London girls insight into local women who shaped London's future
Girls in Grades 6 to 8 will get some unique insights into the lives of London's first female mayor, Jane Bigelow, and 17 other London women who helped shape the local community, with the launch, Wednesday, Oct. 17, of the book, Voices of Change: London Women of the Second Wave, 1960-1985.
The book, written by Dr. Jean Hewitt, is a project of the London Women's History Group.  Voices of Change highlights the accomplishments of local women in changing and influencing the social, political, educational and physical environment of London and beyond.
"Our goal in creating this book is to provide young women in our community with local role models," said Dr. Hewitt.  "Through the diverse stories, we want girls to be able to find a bit of themselves and to believe that they too can have a positive impact in their community and our world.  It is an attractive alternative to the pop and reality star role models that so many of them are exposed to on a daily basis."
The book was has been created for London and area schools and libraries and is geared towards girls in grades 6-8.  The project was made possible through generous funding from TD Canada Trust, the London Heritage Foundation and private donors.
All together the book tells the story of 18 local women and the role that they have played in shaping our community and our lives. "These women established shelters, challenged promotional policies, working conditions, and won women the right to keep their jobs when they were pregnant; they were the first women to enter the trades, to become police officers, to be school principals, deans of faculties, judges and, as a result, have forever changed the fabric of our community and our country," Hewitt said.
Each chapter tells one woman's story about growing up and her influences, passions, motivations, setbacks and achievements.  Among many others, the book includes a chapter on Jane Bigelow; Carol Johnston the woman who conceived of and saw to fruition the establishment of the London Children's Museum; Janet Stewart who has been a role-model for women in the legal profession and who established Big Sisters of London; and Barbara Antone – who established Native Studies programs in elementary schools and helped form numerous programs through the ministry of education to help promote awareness and tolerance of difference in and among aboriginal communities.
The book is being launched at a dinner, being held at Windermere Manor featuring keynote speaker Cheryl Perera, President and founder of OneChild, an organization that sheds light on the global sex trade of children.
"This event will be a celebration of the phenomenal accomplishments of local women and a time to figuratively 'pass the torch' to a new generation of leaders," said Hewitt.