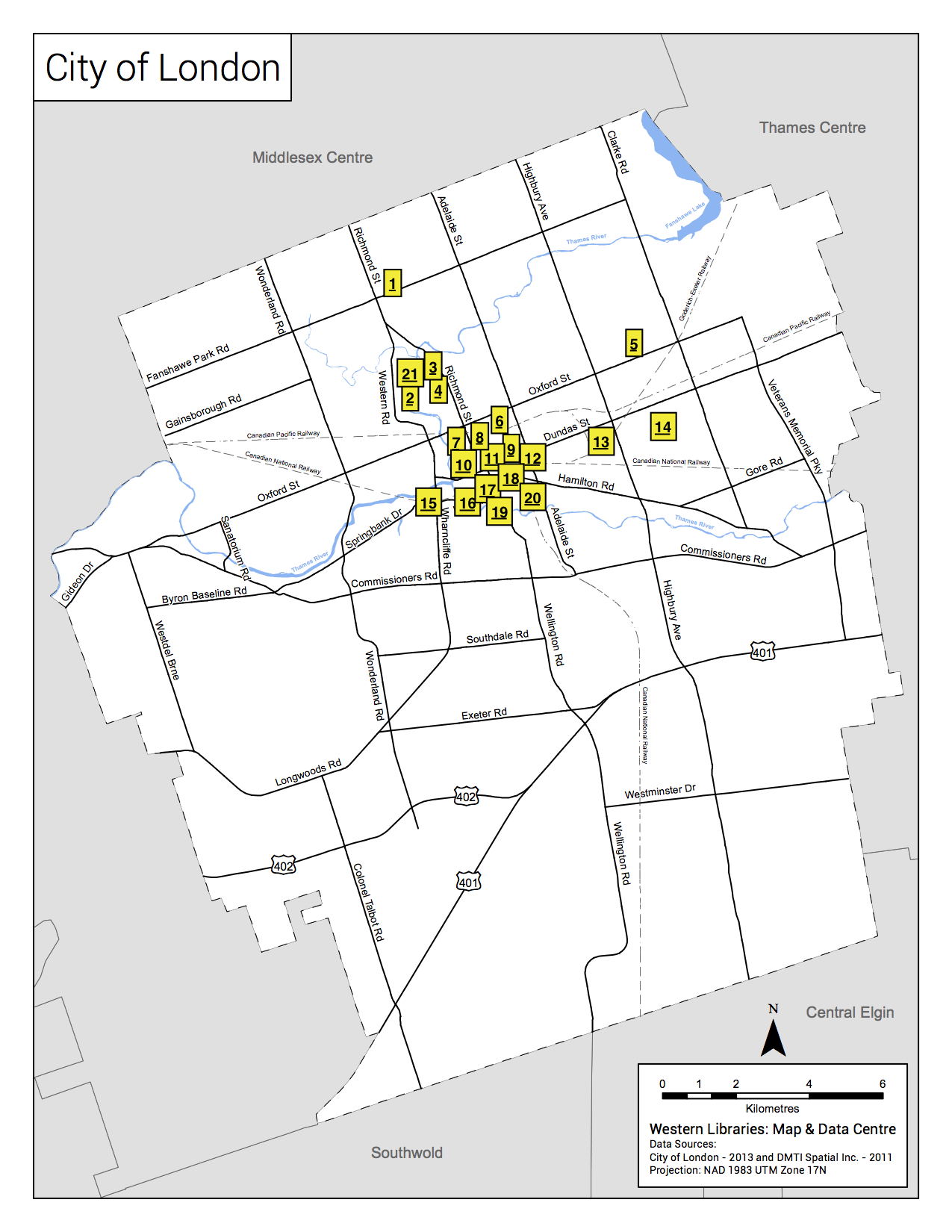 (1) First Ontario Female NDP President
When: February 18th 1971
Where: Medway High School
About:
Pat Chefurka remains an important figure in local women's history as the very first female president of Ontario's NDP party. Her success began in London when she ran for Provincial candidate for the Middlesex South in 1963; and then a federal candidate in 1965. [1] One of her first nomination meetings for the vice presidency took place at Medway High School on February 18th 1971.[2]  She rose to become the president for Middlesex North from 1970-72; and both vice president of Ontario's NDP party and Chairman of the Ontario Provincial Resolutions Committee from 1972-74.[3]
Meanwhile, Pat Chefurka played an important role at Western University as well. She taught physics from 1964-74 as well as becoming the faculty association executive in the latter two years.[4]
(2) Task Force on the Status of Women at Kings College
When: April 24, 2021
Where: King's College
About:
The Task Force on the Status of Women at King's College was created as a result of a workshop held by the Association of Universities and colleges of Canada in November 1975 on the Status of Canadian Women in the Canadian Academic Industry.[5] This workshop, as well as the Canadian Association of University Teachers encouraged the creation of a taskforce at King's. [6]
The Organization published reports in April 1978 and March 1980, discussing a wide range of issues faced by the female students and faculty of universities across the country.[7] This included the 'old boy's network' which the authors felt indirectly led to the marginalization of women, among other issues such as the genderization of jobs.[8] They also hosted events in which professionals discussed these issues and opened the floor for debate.
The Task force consisted of member of the faculty, students and non-academic staff. These people participated in one of three committees; the awareness committee, the statistics committee or the attitudes committee who collected information for the reports.[9] These reports generally inspired strong reactions from those who read them.[10]
(3) London Women's History Group
When: Proposal for a repository for local women's history submitted in April 2000
Where: Documents held in UWO Archives and Research Collections Centre
About:
The London Women's History Group came together in the fall of 1999 with the plan to create a cultural resource for women about local history.[11] They proposed in April 2000 to create a new public library that would become a Women's Resource room, providing an opportunity for women to learn more about the women's rights movements that were active between 1965 and 2000.[12] Their proposal was rejected, but on September 20, 2021 it was announced by Western News that the documents and interviews collected by the group would be housed at Western.[13]
Since then, the interviews have been transcribed by university students…
(4) Women's Studies at University of Western Ontario
When: Autumn 1981-present
Where: University of Western Ontario
About:
This program began in 1981 as a chance to challenge traditional norms in university readings and view the history, anthropology, art, philosophy, literature, psychology, law, languages etc. through the eyes of women.[14] In the summer of 1981 the Women's Studies Committee released a booklet describing courses that would be available in the 1981-1982 school year in the aforementioned subjects that would count towards a degree in Women's Studies along with three graduate courses that would count towards the subject.[15] The booklet also encouraged students to begin a women's studies discourse in their classes and mentioned collections at the DB Weldon Library along with that of King's and Brescia.[16] Women's Studies continues to be taught at Western.
(5) Women's Workshop
When: 20 January 2021 – April 13 1993
Where: Fanshawe College
About:
Begun by a professor at Fanshawe, Margaret Simpson, Women's Workshop worked with both Fanshawe College and Western and affiliated Colleges and various other women's organizations to provide education for women on how to deal with women's issues and learn more about society.[17] These provided a chance for women to learn more about themselves, share knowledge with one another and provide opportunities for women to socialize.[18]
(6) Women's Monument Project Records
When? December 6th 1994
Where? Victoria Park
About:
It was on December 6th 1994 that London Ontario that London presented the Women's Memorial Sculpture, in remembrance of the Montreal massacre at École Polytechnique (the day of the 5th anniversary).[19] The artist who designed the sculpture, Leigh Rainey, has faces etched into the black stone to represent women suffrage.[20]
Unfortunately, there was a lot of controversy against putting such a women's monument in a park that already featured several war memorials.[21]
Inscription: "It is a place to remember and reflect on violence, particularly violence against women, and all women and men who work to end it".[22]
(7) Big Sisters of London
When: 1974
Where: 543 Ridout Street N.
About:
This group was formed by Janet Stewart in 1974 to address the needs of an identified gap in services available for girls age 6 to 16.[23] They sought to provide a friendship with a responsible female adult volunteer for youth in need. Thirty-five years later, in 2009, Big Sisters merged with Big Brothers of London and became one unified organization.[24][25]
(8) London Status of Women Action Group
When: June 14, 1988-2006
Where: Victoria Park – Take Back the Night
About:
The London Status of Women Action Group co-sponsored events such as International Women's Day (March 8) and Person's day (October 16) which celebrated the winning of rights and freedoms for women in society.[26] They also hosted the Nellie McClung Essay Contest beginning in 1984 which was a competition for primary and middle school students to write an essay about influential women in Canadian History with cash prizes for the winners.[27] This was meant to inspire students' interest in women's role in Canadian History.
In addition to raising awareness about women's role in society in the past, they also supported those women whom they felt were being unjustly treated by various local companies by helping with civil suits, Human Rights Complaints, speaking to employers and picketing workplaces.[28] They also supported women's rights by participating in protests such as the pro-choice rally in 1992.[29]
(9) London City Hall
When: 1972
Where: 300 Dufferin Avenue
About:
Jane Bigelow, described further on our blogs, became the first woman Mayor of London in the year 1972. Before this, she had been the only woman on London's Board Control in 1965 as the provincial VP of the NDP. It was under Bigelow that London first achieved the AAA credit rating we have today. Jane took the first steps in changing London's opinion of women in parliament.[30]
(10) Womanpower
When? 1974
Where? 171 Queen's Avenue
About:
The goals of Womanpower were to promote employment opportunities, maintaining an employer visitation program, and career training for women.[31] Even though feminism had been recognized for decades, too many women still faced lots of difficulties in their day-to-day lives. Respecting women and their diversity in society was the focus of Womanpower; they wanted to create a "women-positive" environment.[32]
One of it's first directors was Margaret Simpson, who we have featured on our blogs on this site.[33]
(11) Natives Peoples Resource Centre in London
When: 1978
Where: 260 Colborne Street
About:
Barbara Antone is an important women who lives in London, who is described further in our blogs on this website. A native woman herself, of the Oneida tribe, she worked hard to improve conditions for native women in London and Canada in general. One of the ways she did this was to set up this resource centre in London on a grant from the secretary of state. Their goal was to organize workshops and conferences to help native women in the London area in any way they could.[34]
(12) Family Consultant Service
Where: Police Headquarters (601 Dundas Street)
When: 1973-present
About:
In 1973 London's Deputy Chief of Police, Walter Johnson, wanted training for the London Police force and increased awareness among them of local services that would help families in crisis.[35] The Family Consultant Service was a community-based response to this demand at the suggestion of Dr. Willard Reitz of the University of Western Ontario.[36]
This organization was created to provide short-term assistance and referrals to victims of family conflict and trauma (violence, suicide attempt, child in trouble with the law, etc.) as well as facilitate interactions between law enforcement and health professionals and providing informal and formal training for officers.[37] The Family Consultant Services also provides an outreach aspect; detecting problems early and providing diagnosis of social and emotional dysfunctions, increasing awareness of the police force and its role in society and provide a model force for other organizations.[38]
Today, the Family Consultant/Victim Services remains in continuous contact with police officers on duty, providing support where needed.
(13) Lockwood Films
When: 1977
Where: 365 Ontario Street
About:
Did you know London had it's own film company? Lockwood Films Inc. was created by Nancy Johnson, who was the first woman on the CFPL, and a colleague in 1977.  The company has won several awards for the documentaries they produced like 'Doctor Woman: the Life and Times of Dr. Elizabeth Bradshaw' in 1978 and 'Nobody's Child: Canada's Home for Children' in 1995.[39]
(14) Nokee Kwe Occupational Skill Development Incorporated
When: April 6, 1983-Present
Where: 340 Saskatoon Street (now at 1069 Wellington Road)
About:
Nokee Kwe, which translates to 'working women' in Ojibway, was created in response to the low employment rate of Native American Women.[40] Nokee Kwe employed women for 26 weeks, giving them a wage while they received instruction and training by the staff such as life skills training, education, technical training, career planning and job placement.[41] Until 1987 the corporation also had a printing and binding service that women could take advantage of, but this was sold when funding from the government was cut.[42]
(15) The Children's Museum
When: 1982
Where: 21 Wharncliffe Road
About:
The Children's Museum in London Ontario was created by a woman named Carol Johnson (for more information see blog post), a nurse who researched childhood autism. She worked as a classroom assistant at Vanier for a time. Inspired by a children's museum in Boston, Carol opened the Children's Museum in London in 1982. Girls and boys would be treated equally here; there would be no rules disadvantaging either sex.[43]
(16) London Battered Women's Advocacy Clinic
When: Incorporated July 6, 2021
Where: Started in 399 Ridout Street north but moved to 81 Rideout Street North when needed to expand in June 1984
About:
The London Battered Women's Advocacy clinic, like many organizations of its time, reacted to a lack of support from traditional institutions of battered women in London. The complexity of the justice system combined with trauma to the women abused was considered to be a difficult combination when it came to situations like prosecution and divorce.[44] As a result the Advocacy Clinic was established to provide legal and emotional counselling services for women as well as provide accurate data on battering by evaluating the impact of community services, determine demographic and characteristics of clients and how clinic services met their needs and described characteristics of abuse.[45] It also had the legal goals of speaking out against obstacles for women attempting to end the cycle of violence in their lives and help women choose how to proceed legally and in their lives for free either with the help of direct consultation or through the aid of booklets and pamphlets published.[46]
The Clinic opened in 1983 and found its services in high demand, resulting in it moving in June 1984.[47] At first only individual counselling was offered, but in April 1983 group counselling was also offered.[48] The Advocacy Clinic also worked with the public and professionals to raise awareness of the effect of violence in women's lives to help end the cycle of violence with an outreach program started in 1989.[49]
(17) Sexual Assault Center London
When: July 1, 2021 opened
Where: (currently) 255 Horton Street East
About:
This was a volunteer-based organization with ties to the London Police Department, Office of the Crown Attorney and London Hospital.[50] It was part of the Ontario Coallition of Rape Crisis centers and in March 1985 became a separate body of the Women's Resource center and renamed itself the Sexual Assault Crisis Line.[51]
The Line was/is a twenty-four hour hot line providing support for women who had been assaulted, providing them with counselling and offering them support in reasserting control over their lives. Between 1985 and 1987 they helped to organize the Take Back the Night events in London which were parades held by women at night on the streets of London showing that they were not going to submit to fear.[52]
(18) YWCA Women of Distinction Award/Women of Excellence Gala
When: First Dinner February 3, 2021 - present
Where: 382 Waterloo Street (headquarters of the YWCA)
About:
These dinners were held in order to celebrate the achievements of women in the world of Business, professions and labor, community and public service and arts and letters in London.[53] The nominations are made and submitted by members who described the person's achievements and handed in their Curriculum Vitae.[54] A steering committee consisting of chairman, a subcommittee of seven and a two board representatives judged the nominees and selected one in each category.[55]
The London YWCA was not the first to hold these, but followed the example of other YWCAs in Canada as it celebrated the achievements of women, raised funds for the organization through the selling of dinner tickets and corporate sponsorship and raised the profile of the YWCA in the community.[56]
(19) London Committee to end Women's Abuse
When: 1980
Where: met in the Teaching Health Unit, 50 King Street
About:
Originally known as the London Coordonating Committee on Family Violence this organization brought local organizations that focused on ending family violence in the community in order to promote a united front as well as the police and members of the legal community.[57] This also ensured organizations were communicating and aware of what others were doing to end violence.[58] The committee focused on ensuring funding for all groups, expanding knowledge of changing community needs, ensuring effectiveness addressing questions asked by the community and government.[59] They also handed out the John Robinson Award to those individuals who showed commitment and/or contributed to the community with respect to women's abuse, an award created in honor of Detective John Robinson upon his retirement for his contributions.[60]
The Committee changed its name to the London Coordinating Committee to end Women's Abuse in March of 1999 out of a belief that gender was important when discussing women's abuse. [61] However, it's goals remained largely the same.
(20) Women Spirit Gallery
When: 1978
Where: 359 Dundas Street[62]
About:
The Women's Spirit Gallery was formed to promote interest in the skills of female artists. The goal was to make the works more public to bring more attention to the research and educational materials.
The chairman of the corporation to begin with was Sasha Clair Hayman,[63] but Maureen Riley (who is presented on our blog) was an artist whose show was presented there in 1983.[64]
(21) Canadian Congress of Learning Opportunities for Women
When: 197? - 1984
Where: UWO Congress Meeting 1982[65]
About:
The goals of the Canadian Congress of Learning Opportunities for Women was to figure out barriers to women's education and encourage support for learning and training opportunities for women, especially those put at a disadvantage by age, income, geographic location, etc.[66] The congress' goal was to act as a catalyst for information exchanges and collective action. Their work was meant to draw together an analyze national trends in adult education/training and as a result show where change was needed. Members met annually to discuss their findings.[67]
The core committee of the Congress was originally in Toronto, however they moved their seat to London in spring of 1978 but did have a branch in Montreal.[68] Anyone interested could join provided they had taught themselves about the issues they felt needed to be addressed.[69] In the spring of 1980 they held a national conference called 'the Education connection' where women discussed the needs of women in the labour market and in middle age.[70] That same year, in July, they were represented by Dr. Margaret Fulton at a United Nations conference in Copenhagen.[71] The congress disbanded on a in 2000.[72]
—————————————————————————-
Footnotes
[1]Curriculum Vitae (n.d.). Pat Chefurka Papers. London Women's History Group Collection: AFC 100 8/37.